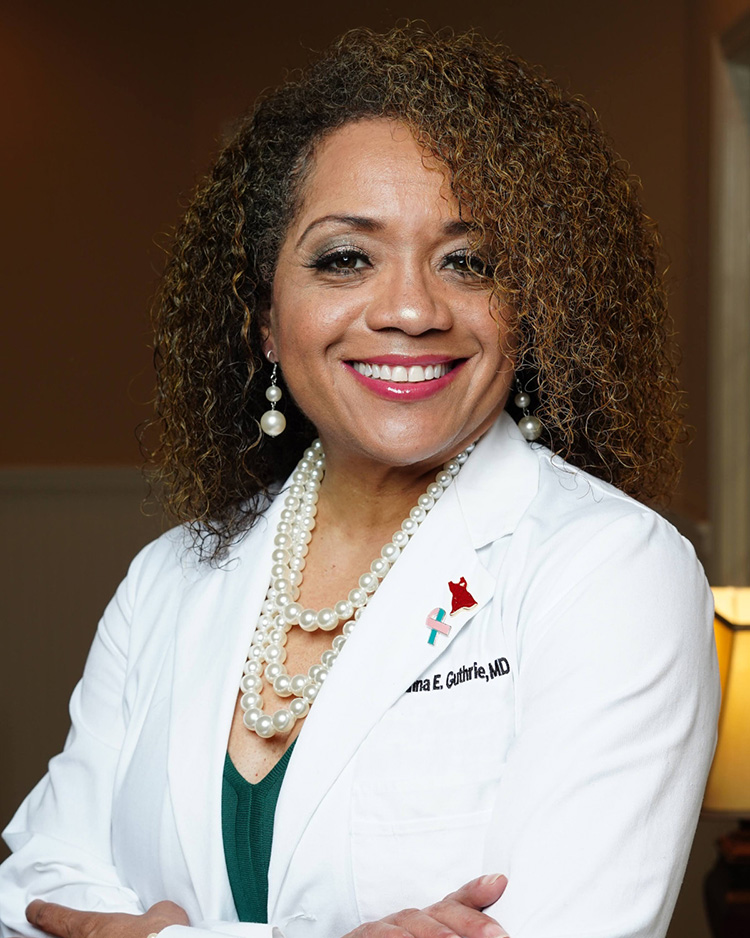 Deanna E. Guthrie joined our practice in 1994. She received her medical degree and completed her residency at the Medical College of Georgia in Augusta. It was there that she made professional associations that carried through to her private practice goals. Dr. Guthrie has a special interest in laparoscopic surgery and urogynecology and has received recognition from the American Society of Laparoscopic Surgeons.
Most recently she received specialized training and is adept in daVinci Robotic gynecological procedures. Because of her growing expertise with this advanced technique she is often sought out as a mentor for other surgeons.
As an OB/GYN she finds the most gratifying moments of her practice range from helping an infertile couple to become pregnant to managing issues of perimenopause, urinary leakage and pelvic prolapse. She also performs in-office surgical procedures to include diagnostic hysteroscopy, Novasure ablation and Essure tubal ligations.
Dr. Guthrie believes in offering total healthcare to women of all ages from teens to eighty plus. She looks forward to providing and encouraging long-term patient – physician relationships. Recent Continuing Medical Education: Advances in Bariatric Medicine/Bariatric Medicine Board Review Course; Advanced Techniques in Endoscopic and Robotic Gynecologic Surgery.
To maintain a commitment to women's health, by providing comprehensive gynecological care, and to promote wellness through education, support, and healing.
Residency, Medical College of Georgia, Augusta, Georgia Department of Obstetrics and Gynecology
07/1990 – 06/1994
Medical College of Georgia
08/1986 – 05/1990
Doctor of Medicine Degree
Oakwood College, Huntsville, Alabama
08/1982 – 06/1986
Bachelor of Science in Biochemistry
Summa Cum Laude
Southwest DeKalb High School
08/1979 – 06/1982
High School Diploma
Summa Cum Laude
National Honor Society
National Honor Society
Since December 1996
Fellow of the American College of Obstetricians and Gynecologists (F.A.C.O.G)
Piedmont Fayette Hospital (Active)
Piedmont Newnan Hospital (Active)
Professional Society Memberships
Society of Laparoendoscopic Surgeons
American College of Obstetrics and Gynecologists
Women's Healthcare – comprehensive gynecological medical care, including wellness and hormonal management
Surgery: conventional open surgery: minimally invasive surgery to include laparoscopic, robotic, and hysteroscopic surgery
Service to the Profession
Chair – OB Practice Guideline Committee, Piedmont Fayette Hospital
(2008 – 2012)
GYN Section Chief – Department of OB/GYN Piedmont Fayette Hospital
(2012 – Present)
Chair – Quality Safety Service Committee, Piedmont Fayette Hospital
(2016 – Present)
Member – Physicians Leadership Cabinet – Piedmont Healthcare
(2015 – Present)
Piedmont Leadership Academy
(09/2014)
Church Council Chairperson/Vice-Chairperson
(2006 – 2013)
Presenter – Piedmont Fayette Hospital Women's Services Conference
(October 6, 2016)