Mironda D. Williams, M.D.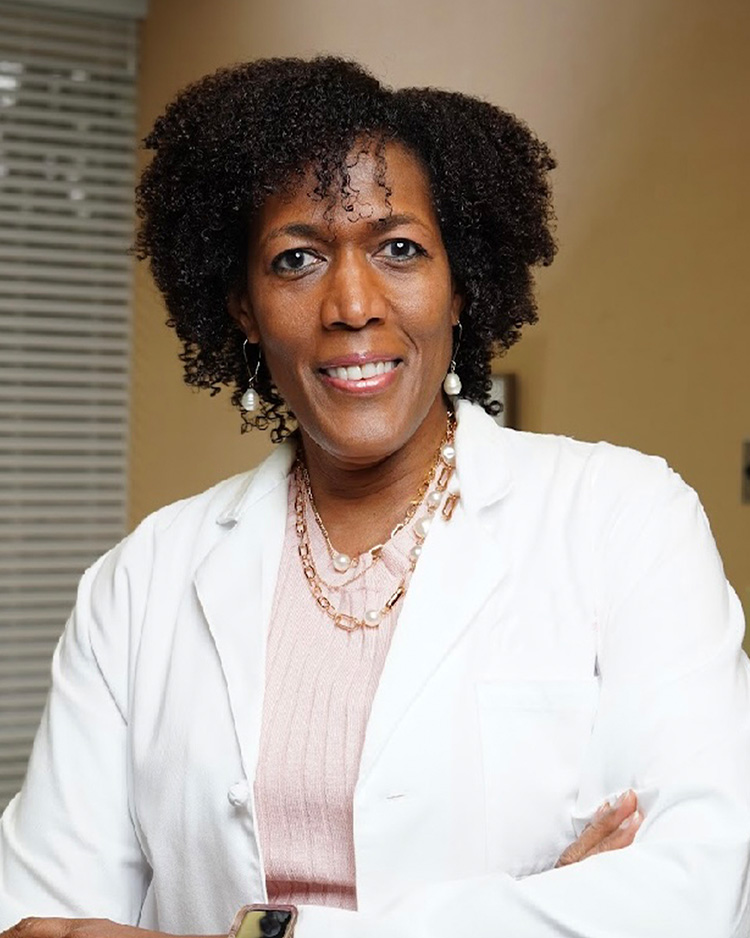 Mironda D. Williams, MD, FACOG is a native of Atlanta (with family roots in Americus and Newnan, GA) who joined Rosa Gynecology in 1992. She currently serves as a managing partner in this successful local OBGYN private practice, founded in 1984.
She has been on active staff at Piedmont Fayette and Newnan Hospitals. During her hospital tenure she has held several positions in physician leadership and was Chairperson for the Women's Services Department for four years beginning in 2015. Currently she serves on the Board of Directors for PFH.
Her medical degree is from the Morehouse School of Medicine in Atlanta and graduated from Cornell University in 1984. She completed her residency at the Medical College of Georgia in Augusta, serving as the Chief Administrative Resident ("Chief – Chief") during her fourth year. Dr. Williams has a strong commitment to serve and feels she was destined to be an OB/GYN physician.
During the last several years, she has continued to utilize her administrative gifts as a managing partner for Rosa Gynecology. Dr. Williams looks at health from the standpoint of the women's overall well-being and has a special sensitivity for searching out the root causes for disease, be they environmental, physical or lifestyle in origin. Her surgical interests led her to become skilled in advanced surgical techniques utilizing the daVinci Robot and other minimally invasive surgical techniques.
Through her civic and community involvement, Dr. Williams has developed a keen interest and commitment to engage and empower youth and young adults. Teen health education and care is one of her primary pursuits along with complementary and alternative medicine in the care of women of all ages. She has recently been named to the Board of Directors for the city of Atlanta's Park Pride. Founded in 1989, Park Pride is the only nonprofit organization working with communities all over Atlanta to improve their parks. They provide programs, funding, and leadership to create more and better green spaces.
To advocate for women's health, wholeness and wellbeing by providing comprehensive gynecological health care service that maximizes service, care and healing.
Medical College of Georgia, Augusta, Georgia Department of Obstetrics and Gynecology
07/1988 – 06/1992
Completed Residency Program
Selected as Chief Administrative Resident, 07/1991 – 06/1992
Morehouse School of Medicine, Atlanta, Georgia
07/1984 – 05/1988
Doctor of Medicine Degree
Cornell University, Ithaca, New York
08/1980 – 06/1984
Bachelor of Arts in Biological Sciences
Frederick Douglass High School, Atlanta, Georgia
08/1976 – 05/1980
High School Diploma, Valedictorian
American Board of Obstetrics and Gynecology
Since December 1994
Fellow of the American College of Obstetricians and Gynecologists (F.A.C.O.G)
Piedmont Healthcare System
Piedmont Fayette Hospital (Active)
Piedmont Newnan Hospital (Active)
Managing Partner | Peachtree City OB/GYN, PC
07/1992 – Present
I have been in private medical practice since the completion of residency continuing to use my administrative abilities in the successful management of the practice since the retirement of the practice founder in 2000. Colleagues and patients have always expressed confidence in my caring, competent clinical and administrative acumen.
Women's healthcare (special focus on African American women's health, wellness and self-care)
Conventional and robotic surgery
Alternative and integrative health practices/spiritual practice and health outcomes
Strategic planning in medical administration
Service to the Profession
Attendance as a keynote speaker or participant at numerous workshops about innovations in healthcare practice, women and heart health, hospital administration and technology, robotic surgery, yoga and alternative health care workshops.
Piedmont Fayette Hospital Board of Directors
(2019 – Present)
Department of Obstetrics and Gynecology Chairperson
(2015 – 2019)
Professional Practice Evaluation Committee
(2011 – 2015)
Piedmont Fayette Hospital – Gynecology Section Chief
(2009 – 2011)
Morehouse School of Medicine – National Alumni Association President/Vice-President
(1994 – 1998)
Ben Hill UMC – Staff Parish Relations Committee Chairperson/Vice-Chairperson
(2000 – 2006)
Church Council Chairperson/Vice-Chairperson
(2006 – 2013)
Mattie Freeland Family Foundation, Founder and Executive Director
(Current)
Alpha Kappa Alpha Sorority, Incorporated
(Member Since 1992)